Gracie Curlock- Communications Assistant
Meet Gracie! As the newest member of our team, she brings a fresh perspective and energetic energy into the office. Joining us from the Mount Royal University Public Relations program, Gracie is going to be our social media and media relations maven for the next few months while she completes her studies.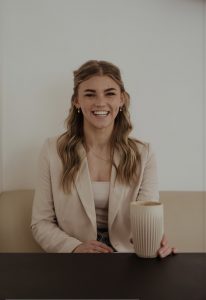 WPRS: How did you get your start in marketing / communications?
Gracie: The best way to describe the beginnings of my communications experience would be through being heavily involved in sports. Some of the best communication skills I have learned have been through the fundamental ideas of being a leader through the highs and the lows of a team. As I entered high school, I went to a career counselor who did testing to find I was best suited for the communications field, and I have been in love with it ever since!
WPRS: Favourite social media platform?
Gracie: Despite my doom scrolling on TikTok, I would still say Instagram is my favorite social media platform. It is the platform I enjoy most because I know it best, and therefore, I can share my creativity with the people in my social circles.
WPRS: What's your favourite marketing quote?
Gracie: "Many companies have forgotten they sell to actual people. Humans care about the entire experience, not just the marketing or sales or service. To really win in the modern age, you must solve for humans." — Dharmesh Shah, CTO & Co-Founder, HubSpot
WPRS: What's your best story?
Gracie: When I was 11 years old, the NHL went into lockout and all players were unable to play season games. As a hockey player myself, I was pretty excited when I saw on my team roster the name Jade Iginla. When I got to practice, I saw Jerome Iginla tying Jade's skates and completely freaked out. It turned out that Jerome Iginla volunteered to coach my team while waiting for the season to commence. He was an incredible coach and a fantastic human. I still hear from him every now and again and will never forget that season.
WPRS: What's your passion outside of work?
Gracie: Beyond the walls of work and school, I love exploring digital media on a personal level. This could be through surveying political information and the persuasion techniques used or simply how sports organizations are using digital trends and algorithms to promote their teams. Additionally, I am interested in the world of true crime as a "crime junkie" but also trying to understand why the true crime world has become a new trend in entertainment and the ethics behind it. Lastly, my bernedoodle Bo is my passion! He is truly my best buddy, and I love taking him to new walking trails and dog parks.