Julia Kaiser – Account Coordinator
A love for communication is in her blood! Meet the newest addition to our growing team, account coordinator Julia Kaiser. A recent graduate of Mount Royal University's public relations program, Julia brings a fresh outlook and enthusiasm to Worthington PR & Story! Get to know her below!
WPRS: How did you get your start in marketing / communications?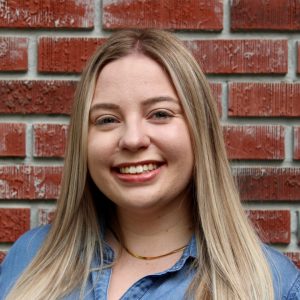 Julia: I can thank two fabulous women that work in communications for helping me get my start in the industry. My mom and a close family friend pushed me to enroll in Mount Royal University's public relations program and I haven't looked back since.
WPRS: Favourite social media platform?
Julia: My favourite social media platform is definitely Instagram! Despite rarely posting on my personal account, I find it is a great space to show rather than tell a brand's story.
WPRS: What's your favourite marketing quote?
Julia: It is less of a quote and more of a mindset – Communicators like ourselves are privileged to have an extraordinary toolkit of skills to influence public thought. A professor of mine once compared these skills to those of a superhero and it always stuck with me. I often think of this analogy when trying to navigate ethical issues in public relations – always making sure I am using my skills to be the superhero and not the villain!
WPRS: What's your best story?
Julia: While a specific moment in time doesn't come to mind, many of my best memories and stories involve skiing in the Rocky Mountains with my family. I grew up in a home full of ski racers and weekend trips to Banff and Canmore were the normal growing up. The fresh mountain air, quality family time and thrill of conquering Lone Pine on the North American chair at Mount Norquay have resulted in countless stories over the years.
WPRS: What's your passion outside of work?
Julia: Outside of work, I am a highland dancer and teacher. Despite having zero Scottish heritage, I am incredibly passionate about the sport and sharing it with younger generations. After a long hiatus due to injuries and the pandemic, I am looking forward to competing for the first time in 6 years!