Megan Pearson – Account Coordinator
Meet Megan! As the newest member of our team, she is a natural storyteller who loves to bring client ideas to life. As a soon-to-be graduate from Mount Royal University's public relations program with a background in corporate communications, she's experienced in strategic planning and key message development.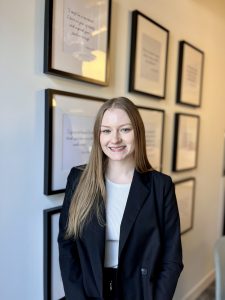 WPRS: How did you get your start in marketing / communications?
Megan: I was first exposed to communications during my time as an office manager at a little ski resort in Northern B.C. My responsibilities were definitely "all of the above" in that position, so I spent lots of time updating our website, writing social media copy and developing internal communication processes. I realized in that position that communications are my biggest strength and my greatest passion!
WPRS: Favourite social media platform?
Megan: Definitely Instagram. It's the platform I use the most and it seems like the best place to find new local food spots!
WPRS: What's your favourite marketing quote?
Megan: "Smart brands don't just ride trend shifts. They start them." – Ann Handley.
WPRS: What's your best story?
Megan: My best stories come from my time working on different ski hills in B.C. I spent two years just skiing and living my best life with people from all over the world! I learned so much about myself and made memories that will last a lifetime.
WPRS: What's your passion outside of work?
Megan: I'm definitely passionate about travelling. I want to explore the whole world! I've toured a lot of Canada, the U.S. and the Caribbean, and I'm eager to see all of Europe one day.