Creating Space
Recently, our team was lucky enough to get away for a quick mountain retreat where we spent some time team building, celebrating milestones and most importantly, setting the tone for creating space – a new favourite topic around the office. 
The concept of creating space is something our team has recently begun to consider, both in how we work and how we want to work, not to mention how it applies when we're away from work. It may be that creating space is just another side of the 'balance' coin, but the term certainly seems to resonate with each of us. 
Creating space might involve a short pause or a more robust reset. It could look like a walk around the block, a conversation in the living room, a coffee run or maybe just a few deep breaths. Creating space within our workday, our work week and our workplace gives our team the opportunity to: 
Collaborate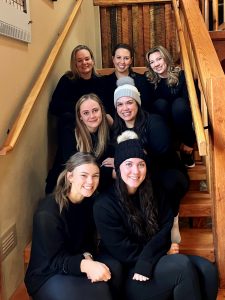 We are better together. If you asked any member of our team what the best part of working at Worthington was, they would unanimously agree that it's our group. Holding space and supporting each other makes us more creative and effective, allowing us to be more productive. 
Think
Sometimes you just need a minute. PR can be an incredibly fast-paced environment, so it's important to remember to pause and reflect before you react or respond. At times this extra step may feel like a luxury, but whenever possible, space should be built into your schedule to allow you to produce your best work.
Learn
They say that sharing is caring, and much like the tip above, taking a moment to observe and learn from your colleagues can save you both time and misery. As a team, we are constantly learning from each other and our clients. By developing and refining best practices as we move forward, we increase our efficacy and efficiency and ultimately – create space. 
Focus
When tasks are flying at you at a million miles an hour and your to-do list never seems to get any shorter, it can be difficult to wade through all the noise and drill down to what's most important. Taking the space to prioritize tasks and check off items that can be accomplished quickly will ultimately help guide your workday. 
At the end of the day, creating space is about helping you enjoy what you do and providing the opportunity to put your best foot forward.