Why We Went Viral on Instagram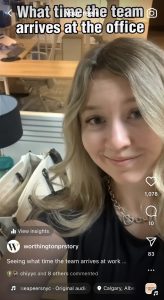 Oops… we recently had an Instagram reel go viral, with more than 250,000 views. Internally, we gave some thought as to why this reel went viral. We didn't take months to write a script or spend hundreds on cameras and ring lights, so what triggered this video's popularity?
While we don't know for sure why this particular video ultimately went viral, there are some practices we have been implementing on our social media channels to increase traction and followers. Here are five tips that you can incorporate into your social media strategy to help get noticed.
Post Videos Consistently
Sometimes less is more, however, the Instagram algorithm favours accounts that are posting consistently. On average, a business account should post 1.71 feed posts per day.
This might seem daunting, so we created a manageable goal of posting approximately three times a week on Instagram, with at least one post being a video. Statistics have shown that reels take up 30% of the time people spend on Instagram, so we make sure we prioritize short-form video content.
While maintaining consistent posting is important, we also make sure everything we post is relevant. We recommend posting with intention, even if that intention is simply a fun way to introduce a growing team like ours or highlighting some of the incredible work we have been doing. We want to ensure that everything we post is aligned with our content pillars and our organizational goals.
We are able to post consistently by planning ahead. Using a content calendar like Hootsuite and Google spreadsheets, we are able to pre-schedule about 80% of our content, leaving wiggle room for urgent and new content requests to come in.
Use a Trending Sound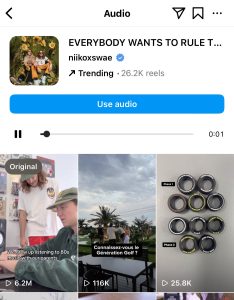 If you're looking to reach new audiences, try using a trending sound. When a song is trending on Reels, the Instagram algorithm will increase the number of users who might see your video. 
To see if an audio is trending, look for an arrow next to it. This means the audio is growing in views. To find a trending audio, try scrolling through your suggested reels or reels of similar accounts and look for repetition. 
However, you should keep in mind that not all audios are available for business accounts to use due to licensing for commercial use. Instagram also favours audios that are added natively through the app and not beforehand in a 3rd party app. 
Show Some Humour
Show some personality! Our viral reel was quirky and humorous but the viewer also got to know our team in a professional manner. Instagram has explained that, "People tell us they want to see entertaining, funny and interesting content in places like the Reels tab, and we've gotten better at recommending that." 
So why does humour work? There are several reasons why humour is effective on social media: it makes your brand more relatable and authentic, it can allow you to attract a new audience by changing the way people think about your brand and it is one of the most common viral content denominators. 
While incorporating humour into your social media presence, it is still important to make sure that it aligns with your brand and core purpose.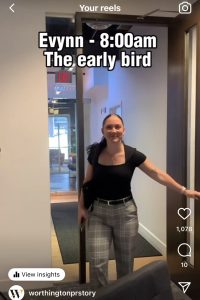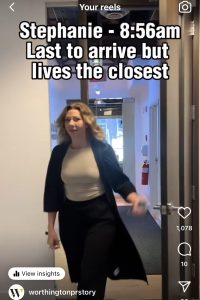 Show Your Face
A study conducted by Hootsuite found that most trending videos have something in common: People! It was found that even just the image of a person in a reel helps it perform better, and it was suggested to feature a person in your cover image. 
Build a connection with your audience by featuring the face(s) behind the company. Featuring people on screen can help show your audience your authenticity and reliability. 
Try!
The best thing we did? We weren't afraid to try.
While trying to find a quick and easy way to get a viral video might seem appealing, it is important to recognize that there is no guaranteed formula for creating viral content. Virality is a complex and unpredictable phenomenon, and what works for one video may not work for another. Ultimately, success on social media should not be measured solely by virality but by the impact and engagement your content has on your community.