Design Hacks That Everyone Can Use
You don't have to be a certified designer to create visuals that are on brand and engaging. There are plenty of tips and tricks that you can easily learn and implement to build high-quality digital and print assets.
Here are eight tips that will make you a better designer:
Understand the purpose of the asset.
Knowing what the asset will be used for will determine what tools you use, what size you make it, what type of images you add and more. Designing an Instagram post is very different from designing a billboard.

Size your project accordingly.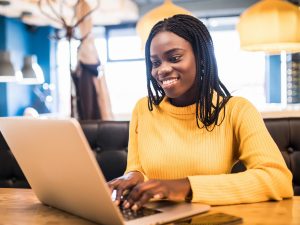 Print assets are usually sized in inches (like an 11×17 poster), but digital assets are sized in pixels (Instagram posts are 1080 x 1080 pixels). You can find a list of common social media image sizes here.
Adjust your resolution.
When exporting an asset, digital assets can be exported at 72ppi (pixels per inch) which is the average resolution of digital displays. A print asset should be printed at a higher resolution (150-300 ppi) to ensure it looks clean and crisp.
Use the correct type of images in your design.
Png and jpeg image files have a set resolution, which means if you size them too large they will look fuzzy. These types of image files are good to use in digital assets or small print assets that have a lower resolution (eg. websites, e-newsletters, postcards).
For larger print assets, use high-resolution images or image files that are eps, psd or ai. These are called "vector" images, and they will maintain their integrity no matter how large you size them.
Use the correct colour codes.
Each unique colour has a code, and that code changes depending on what the asset will be used for. Digital assets use RGB, which measures how much red, green and blue is in a colour. Print assets use CMYK, which measures how much cyan (blue), magenta (pink), yellow and key (black) are needed to print that colour. Hex codes are a universal code mostly used for building websites.
When graphics are displayed digitally versus printed they may look different than intended if the correct code system is not used.


Look for inspiration.
You don't have to start from scratch with every new asset. Look to Canva or Pinterest for ideas on unique type combinations, colour palettes, and graphic layouts.

Take advantage of free tools.
If the Adobe Design Suite isn't a fit for you, Canva is a great alternative that is user-friendly and free to use. It is best used for digital assets and small print assets.
Flaticon is home to millions of icons to elevate your graphics. If you sign up for a free account you can edit the icons to match your chosen colour palette.
Unsplash and Pexels have a good selection of images and videos that are creative commons, which means they are free for everyone to use and are not copyrighted.

Practice makes progress.
True designers agree – nothing is ever perfect! Practice will get you pretty close. Play around with different tools, layouts and styles to find your groove. Look to your favourite brands and designers for inspiration, and don't be afraid to move outside of your comfort zone. 
Need some design support for your organization? Worthington can help bring your creative visions to life, from simple to complex designs! Reach out to us at paula@worthingtonpr.com to learn more.