What the World Needs Now: More Poems
As we approach one year since the start of the global pandemic, as a communicator it's been fascinating to witness how our world has changed, and reflect on the stories and moments that have captivated our society.
One thing is for sure: we need to hear and share great stories more than ever.
Amongst the waves of the pandemic, I know many have been swimming through their own rip tides: immeasurable grief, fear, anger, anxiety, insecurity and anguish. And for that, I wish for better and brighter days ahead; of healing, recovery and hopefully soon, reunions with those we love and miss.
As we tucked 2020 away and welcomed 2021 from the quiet of our homes, I have no doubt everyone experienced some level of contemplation about the year that was and what lay ahead. Was it okay to feel relieved? Was it okay to feel sad? Would a new year just bring more of the same?
On a bright January day, the world was captivated when a young woman approached the podium at the U.S. Presidential Inauguration. Little did we know the surge of hope that would launch from her confident voice and the grace of her conductor-like hands. Or that the voice of a young, bright artist could very well be the tipping point we needed to carry us through the dark days of a pandemic winter.
Amanda Gorman's recitation of her poem, "The Hill We Climb", were the words we all needed to hear.
From her first lines, the world started to take notice of this inspiring, vibrant poet.
"When day comes we ask ourselves,
Where can we find light in this never-ending shade?"
Watching her reassuring smile, we started to sit a little taller.
"We lift our gazes not to what stands between us, but what stands before us,"
By the time she reached her final stanza, we were transfixed:
"There is always light, if only we're brave enough to see it, if only we're brave enough to be it".
I loved Gorman's recitation, but I was equally compelled by her own personal story. Until around the age of 20, she had a speech impediment, and had difficulty pronouncing certain letters, such as words with "r" in them. In an NPR interview, Gorman talked about how she was sentimental about publicly reciting at the Inauguration on one of the world's biggest stages, knowing that President Biden had struggled with a speech impediment as well.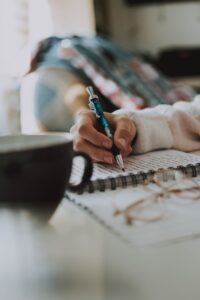 She talked about how Maya Angelou was mute as a child, and of course went on to be a huge voice for literature. Angelou also delivered an inaugural poem, for President Bill Clinton. Gorman shared that there was a rich history of people who had to struggle with a type of "imposed voicelessness" and then eventually earned the opportunity to stand on stage and share their voice to the world.
It got me thinking about how we often work with clients who are hesitant to share their story, or struggle to find their own voice. They get nervous in front of a TV camera, or stumble over questions they could normally answer in their sleep. Whether physical or psychological, what is their "imposed voicelessness" that holds them back?
When it comes to the pandemic, how many people have felt voicelessness due to isolation or fear? How can we do a better job at truly listening to each other, and amplifying the voices that matter?
The best part of the human experience can be drawn from stories – sharing our own and listening to others. When someone wants to tear apart a society, they start with the artists and the brilliant innovators – taking away books, destroying art pieces, silencing voices. When someone wants to rebuild a society, they turn to the arts and science: we lean in to creativity, language, technology, nature and ideas.
Amanda Gorman's poem didn't just reignite our spirits, she helped us imagine what this world can be.
Inspired by Gorman, youth are discovering the power of the pen and are amplifying their voices by writing their own poetry. It thrills me to know that people who may have struggled with their voice have found a role model in Amanda Gorman.
When we can find our voice and speak our truth, anything is possible.