Evynn Anderson – Communications & Digital Coordinator
Meet the newest addition to our growing team, Communications & Digital Coordinator Evynn Anderson. A recent business graduate, Evynn brings a fresh and energetic perspective to Worthington PR & Story! Get to know her below!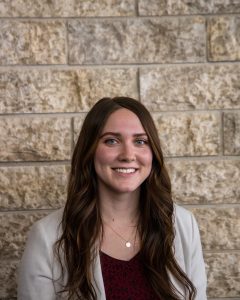 WPRS: How did you get your start in marketing / communications?
Evynn: I have always had a love for writing, maybe that came from my mom who's an English teacher. My path to marketing and communications certainly hasn't been a straight one. Thanks to a few leaps of faith, I found out where I could combine my love of writing, creativity and people, and here I am!
WPRS: Favourite social media platform?
Evynn: TikTok! They've completely changed the way brands can introduce themselves to their audience. I feel like it's easier to get a brand's personality across on the platform. Another interesting fact is that almost half of users have purchased a product after seeing it on TikTok!
WPRS: What's your favourite marketing quote?
Evynn: "The pen is mightier than the sword," by Edward Bulwer-Lytton is one of my favourite quotes. Our words can be used to influence great social change and positive behaviour. Never underestimate the power of a good story.
WPRS: What's your best story?
Evynn: One of my best stories is how I grew up in the middle of nowhere Montana and ended up living, working and loving life in Calgary. It's a story of love, finding myself and creating dreams I'd never thought possible.
WPRS: What's your passion outside of work?
Evynn: One of my passions outside of work is fitness! Lifting weights has completely changed my physical and mental health. You can find me in the gym on most days.